It's 7:30 on a Saturday morning in Fayetteville, typically not a busy time of day in town in August. But at the Washington County Fairgrounds, the hum of pickup trucks, the clanging of horse trailers, and the dragging of folding chairs and tables across the floor of the horticulture building takes you to a different place. For Doris Cassidy, this place is a second home. She's a petite lady in her 80s, and everyone in that building knows she is in charge.
"The nicer you are to them, the better they help you," said Cassidy about the gentlemen from the fair committee hauling in tables and chairs. "They're not used to driving the tractors, and they dumped them in the floor. So now they're helping me pick the tables up."
Cassidy has been involved in the Washington County Fair since 1968, eventually becoming the Fair president for 21 years. Cassidy's leadership and get-things-done mentality doesn't pause even for just a moment during an interview. Mid-sentence, she apologized and directed a volunteer to grab a specific cleaning product that would best clean the tables.
It doesn't take much time in conversation with Cassidy to see that she's dedicated. Her professional career mirrors that as well. She moved from Texarkana up to Fayetteville to attend the University of Arkansas. After an internship at Vanderbilt, she returned to Fayetteville to work at the VA Hospital as a registered dietician and spent the next 50 years working there.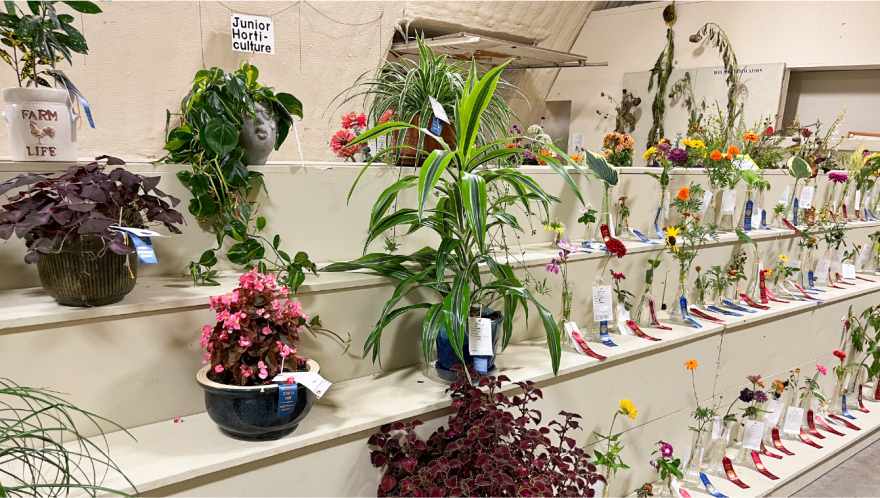 Her dedication at the fair these days comes from her work in the Washington County Master Gardeners club. That's how Alfi Anderson got to know her. Anderson lives in Goshen and joined the Master Gardeners club during COVID, but had a hard time making friends with other new members. Anderson got connected with a project in Goshen, which is also where Cassidy lives, and her reputation preceded her.
Everyone said, "Don't touch the roses, those are Doris' roses." I was like, "who is this Doris?!" I was a little afraid of her at the beginning, but now we're thick as thieves. She is now my adopted mentor.

Alfi Anderson
Anderson works to initiate and welcome new members for Washington County Master Gardeners. One element of being a master gardener is not just becoming an expert at gardening but building camaraderie and ownership in your project.
"They depend on you to be there," said Anderson.
Laura Underwood is a trainee, she stressed that multiple times, and she says the knowledge gained from the club was important to her. Members are expected to commit to at least 40 hours of hands-on service and an additional 20 hours of coursework, so she knew it was going to be a big responsibility.
"I talked to my husband and said, 'OK, this is the year I really want to commit,'" said Underwood. "The first few weeks of February you are sitting in class, because this is part of the University of Arkansas Extension Office. You go through many hours of class, and then once you do that, that are 18 projects that the Washington County Master Gardners take care of."
One of those projects, of course, is the county fair. And it's a perfect place to recruit future master gardeners as well. County fairs across the state of Arkansas have an intentional focus on youth involvement. Wandering through the different barns on-site you'll see kids cleaning the pens where their horses and cows and chickens are being judged. The same is true in the horticulture building as well; a significant portion of the judged entries are from kids. Anderson said one way to keep kids wanting to stay involved is encouragement and asking questions about their projects.
"'You grew this? That's amazing, tell me about it!' And so they tell you their story, and they're so proud," said Anderson. "Especially when they've put the work into and they have a product that they're proud of. There are first and second place [ribbons], but everyone is encouraged and everyone did a great job. If they need a little help, you can say, 'Next year, maybe thing about this and that.' And they'll come back next year and make those connections, and they've learned, and it's a learning experience. It's education in horticulture and we love the kids when they come in, they're so proud."
Cassidy said one of the missions of the county fair is leadership, especially for the youth who are involved.
"The ability to win and lose—people have a hard time losing in this day and age," says Cassidy. "So we try to teach that so that they grow up to know that not everything is perfect. It's good to win a white ribbon as well as a Grand Champion… you don't get the same feeling out of it, but you've participated.
The thing she enjoys the most in the horticulture building is the reaction of the kids once their projects have been judged. "To see the little kids to come back in and to see their face when they say, 'Oh look what I won!' That to me is the most rewarding part of it."