By Master Gardener Volunteer Lesley Arrandale
mail@floridanewsline.com
It's too early to start expecting cooler weather, but I need to hope! In early August, so much of the country has been and continues to be assaulted by record heat, fearsome storms, and truly hellish wildfires. The latest forecast is for a much more active hurricane season, although it's been quiet so far. The average peak of the season is in early September, so please be prepared.
We can plant containerized perennials year-round, and rainy summer weather can be helpful in getting them established. Do pay attention to their needs in case the rain doesn't come regularly. They will need consistent watering until they are established. Install your plants late in the day and rig up temporary shade for them during the hottest part of the day if they start to wilt.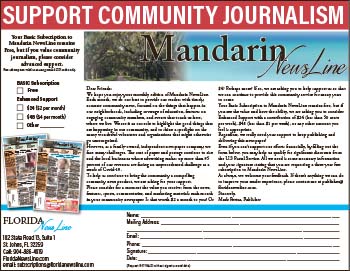 Tonya Ashworth, our Duval County Horticultural Extension Agent, has compiled a fact sheet on butterfly gardening, to help us encourage our most beautiful insects. Many of these plants are also highly attractive to a wide range of pollinating insects and serve a valuable purpose. Check it out: https://tinyurl.com/2z58v8s3.
Late summer- and autumn-flowering plants will be coming into their own, which should attract insects that are preparing to overwinter. Birds also need to bulk up before and during migration, so late season flower and grass seeds are as important for them. 
It has been clear for a few years now that we have a population of hummingbirds that overwinters here in Jacksonville. If you can supply flowers throughout the cool season that would be so helpful. In the event of frost or hard freeze, keep those flowers safe by covering them with frost cloth. Suitable nectar plants include shrimp plants (Justicia brandegeeana), pentas or starflowers (Pentas lanceolata), particularly the old-fashioned tall red variety, firespike (Odontonema cuspidatum), and fire bush (Hamelia patens), which also supplies our mockingbirds with delicious fruits. Of these, I've found that the shrimp plant is probably the most hardy, but that could depend on your local microclimate.
Cool season vegetables can be sown indoors to get a head start on the season, but don't make the mistake of starting lettuce too early. Too much warmth before they've matured will cause them to "bolt" or start to flower and the leaves become bitter. To remind myself of planting times, I refer to the Florida Vegetable Gardening Guide: https://edis.ifas.ufl.edu/publication/VH021. If you haven't tested your soil recently you may submit a sample to our Extension Service for a free analysis. The ideal pH range for vegetables is between 5.5 and 7. For more extensive testing, the Florida Vegetable Gardening Guide has information on tests performed by the University of Florida.
For lawn lovers anticipating an application of fertilizer before the — hopefully — cooler months, this article can help you decide when and how to apply it: https://edis.ifas.ufl.edu/publication/EP236. You'll see that the title includes the term "best management practices," and it encompasses all you need to know about watering and mowing your lawn, be it St. Augustine or any other turf. There is an informative series of webinars available from the University of Florida, covering a range of topics. If you enjoy online learning, check out https://ffl.ifas.ufl.edu/resources/webinars/for-homeowners/. "Turf Update" was just uploaded in July, and "After the Storm Tree Care" will be available shortly. 
Take time to enjoy your garden. I recently spotted at least 10 types of insects and bugs on a hackberry tree, including a pair of mating lady beetles, complete with a comical little wiggle! If only I knew enough to appreciate the individuals concerned, although statistically most would have been beneficial. When cutting back some weedy grass, I found a rosy wolf snail, just doing its thing down in the damp, rotting soil cover. It's a predator, which means it's a garden helper just like those lady beetles.