Do you want an easy way into gardening that doesn't require tonnes of space? Fancy growing a no-dig edible garden that incorporates all your favorite veg? Do you want it to yield the best harvest possible? If the answer to any of the above was 'yes', then you need to know about the Square Foot Gardening method. 
This space-saving approach to planting is the best way to grow your own modern vegetable garden even in the smallest of backyards. There's no need for huge beds or borders, no prior experience necessary, and it's even suitable for paved outdoor spaces. Made using raised beds that are divided into square-foot grids, these clever mini allotments can be adapted to any size or shape you like, and you can use them to grow whatever produce you fancy. 
Keen to find out more? Here, we speak with some expert gardeners, including representatives from the Square Foot Gardening Foundation, to find out more about this planting method and how to incorporate it into your own space.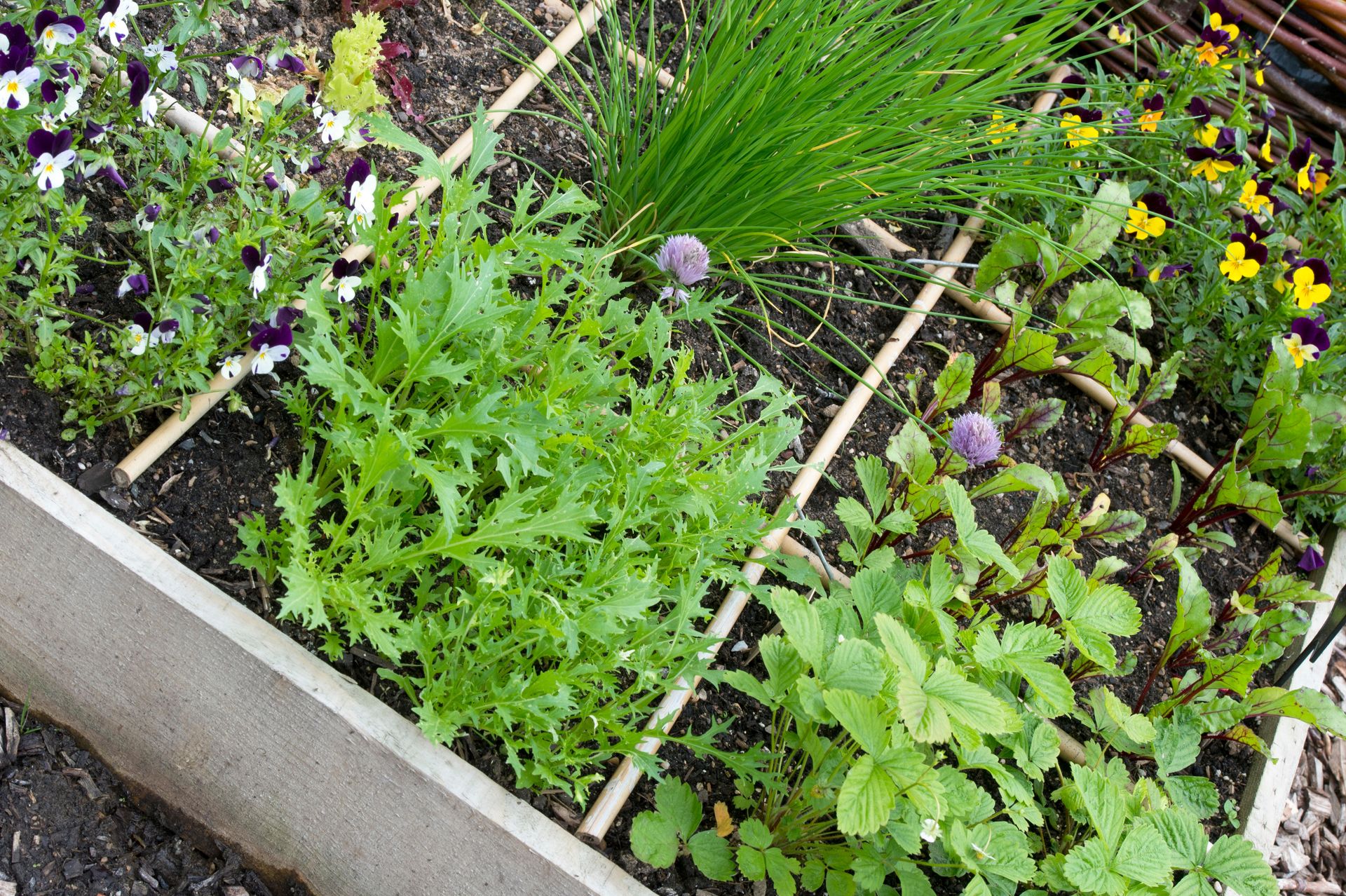 If, like me, you avoid math like the plague, Square Foot Gardening might sound off-putting, but there's no need for complicated sums with this gardening technique. It does exactly what it says on the tin, and it's really quite simple; all you do is divide your raised bed into equal spaces measuring a square foot each. 
'Square Foot Gardening is an organic intensive raised bed gardening method using grids and Mel's Mix (a custom growing medium) to get optimal efficiency and vegetable yield from a small space garden,' explains Laura Bartholomew of Square Foot Gardening Foundation. 'It's the ideal gardening method for the first-time gardener due to its basic step-by-step instructions, taking all the guesswork out of creating a new garden.'
The way it works is simple. 'The growing area is divided into smaller square sections, each measuring one foot by one foot,' says Tony O'Neill, professional gardener and owner of Simplify Gardening. 'This method therefore ensures efficient use of space, allowing gardeners to grow diverse plants in a compact area.' It's a great alternative to vegetable container gardening and it's perfect for small backyards as you can incorporate as many square foot plots as you like.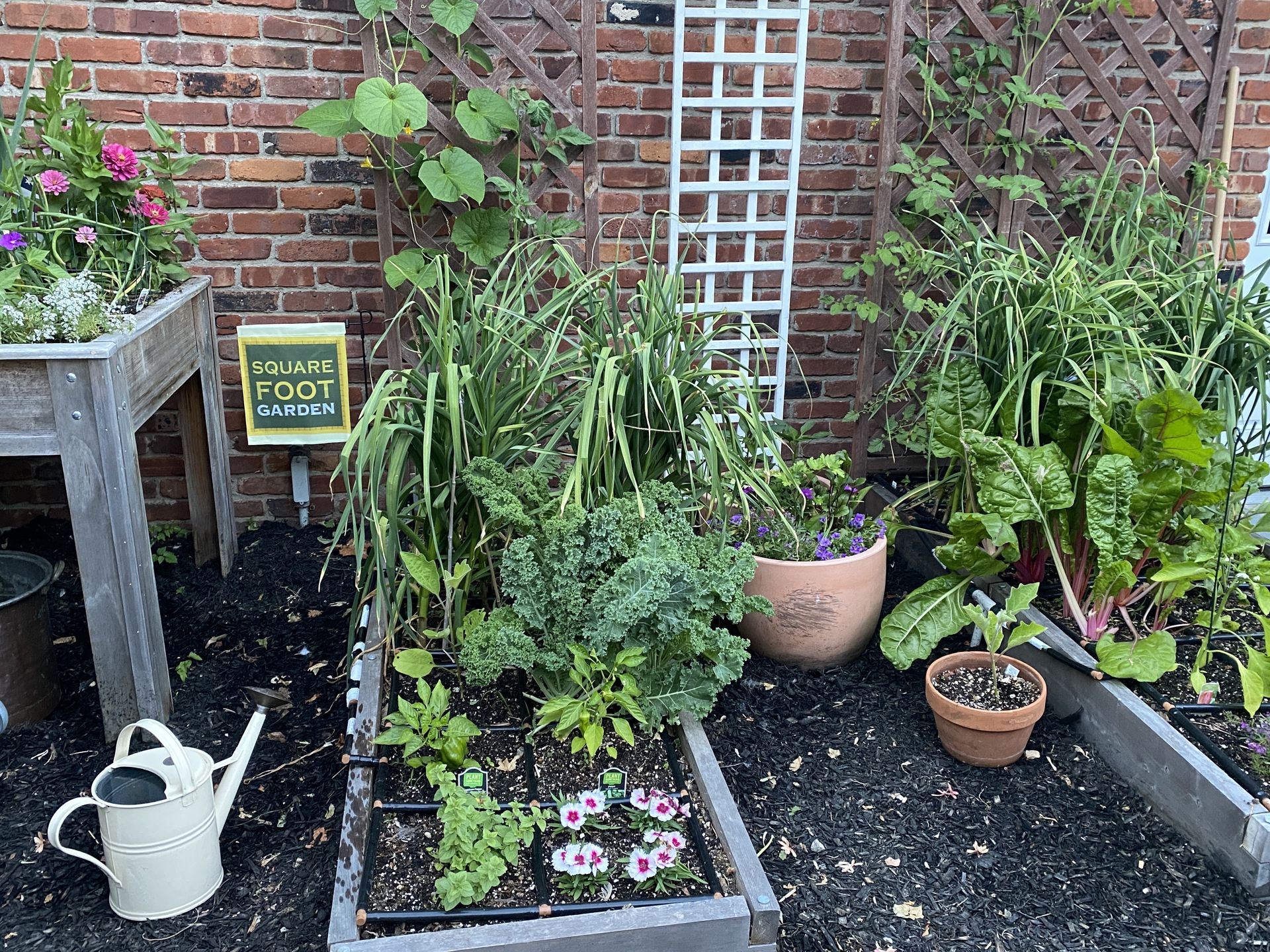 Besides allowing you to fit more veggies into your raised bed it might be difficult to see how the Square Foot Gardening method actually benefits your plants, but we can assure you, it does. 
'First off, this approach to vegetable gardening is a great space-saving solution that's ideal for urban gardeners with limited space,' says Tony. Not only does it allow you to cram lots of plants into a small area, but you can also adapt the method to your needs, too. Whether you have a small patio suitable for a 2-by-2 foot bed, or a sprawling backyard with space for one that's five times the size, you can introduce a Square Foot Garden virtually anywhere. 
'This method of gardening also saves time, effort, tools, and water compared to regular vegetable plots,' says Steve Bartholemew at The Gardening Foundation. 'Additional benefits are virtually no weeds, no digging or rototilling, no fertilizers, and no heavy tools are necessary.' This is all down to a particular soilless growing medium that's synonymous with Square Foot Gardening and is known to produce successful results (more on this later). 
Last but not least, the efficient spacing means more plants which, combined with planting techniques like crop rotation and companion planting, lead to better harvests. 'This also makes it more cost-effective as it requires less water than traditional row gardening,' adds Tony.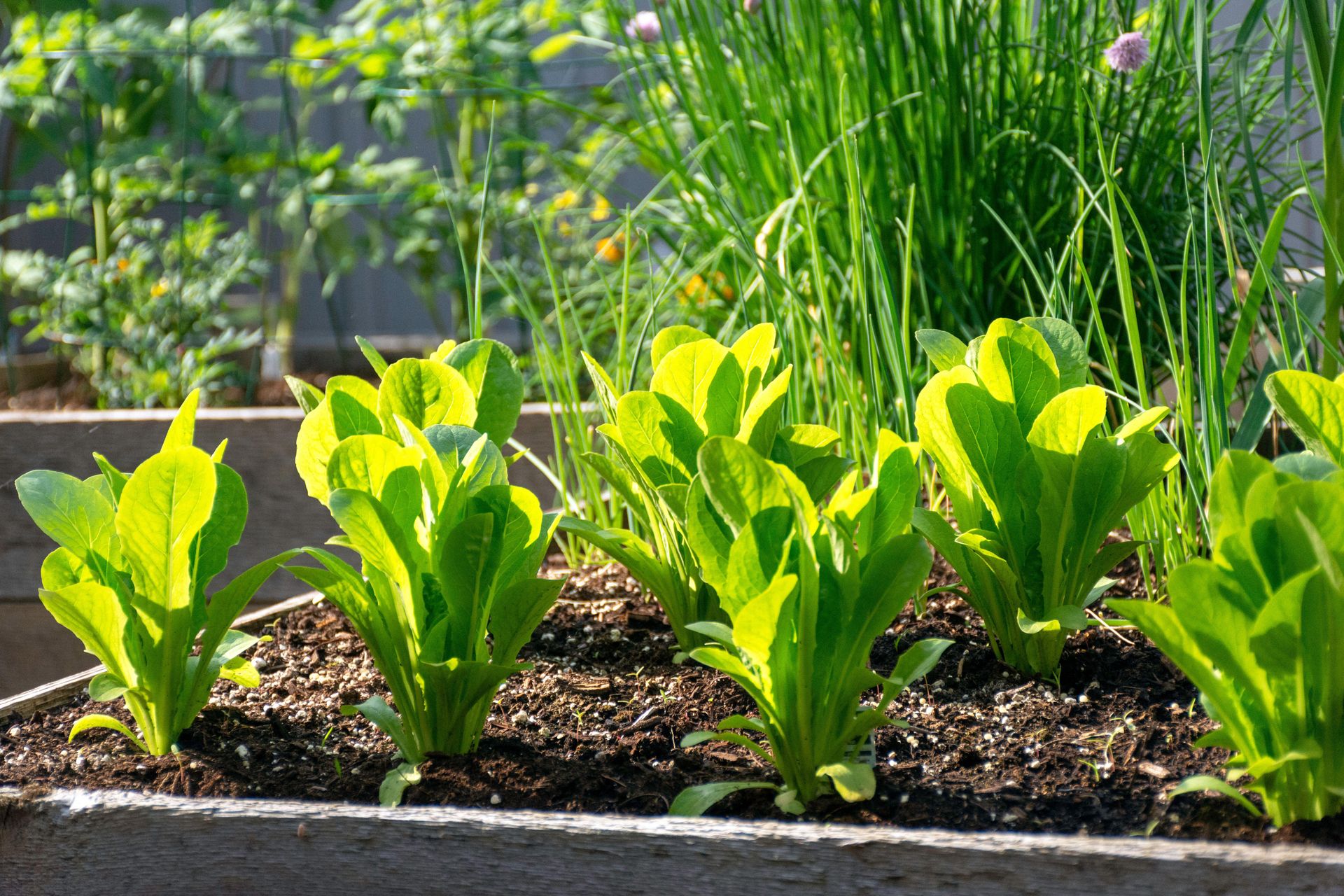 If you're itching to get started on your own square foot bed already then here's everything you need to know about how to build one, the type of growing medium to use, and what types of plants to include. 
1. Choose a location 
'Firstly, when choosing the location of your garden, be sure it gets at least six to eight hours of sunshine per day,' says Laura. A spot with good sunlight is essential for your plants to receive all the daylight they need, and since you'll be growing lots of different types, you'll need to make sure they all have similar lighting requirements. 
You might also want to incorporate some climbing plants into your bed for a vertical garden idea. In this case, you could put your Square Foot Garden next to a wall or fence with a trellis, but just ensure it isn't too shaded and still gets plenty of sunlight. 
2. Build your raised bed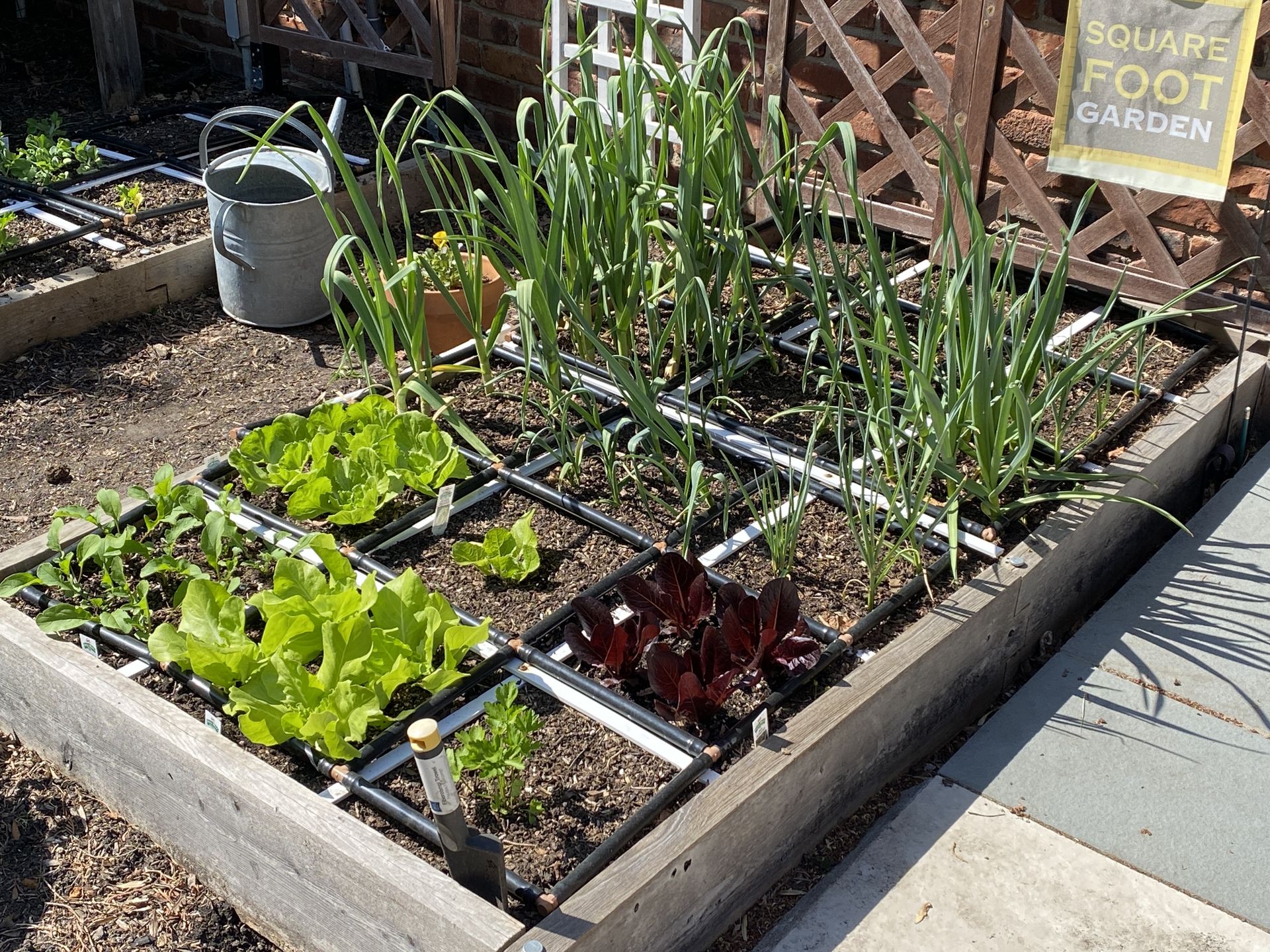 While you can apply the same concept to a regular garden bed, Square Foot Gardening is traditionally done in raised beds. These freestanding beds are constructed above ground-level structures and can be made of wood, rock, concrete, or other materials such as galvanized steel. 
'We recommend beginners start with a 4×4 foot bed that will give you 16 squares to plant,' says Laura. 'The actual raised bed can be assembled from bricks, wood, stones, or a material that can be upcycled and not toxic, but avoid material with paint or other finishes that can leach into your garden.'
Ensure the bed itself is at least six inches deep to allow sufficient room for growth. Once you've constructed the borders, you should then add landscape fabric to the bottom to prevent weeds from growing into your squares.  
If you're doubting your handiwork abilities, you can also buy pre-constructed raised beds like this one, from Amazon. 
3. Add Mel's Mix
Next, it's time to add your growing medium, and when it comes to what soil to use in raised beds, Mel's Mix is an industry favorite. This miracle soil blend was first devised by Mel Bartholomew who founded the Square Foot Gardening method as the perfect composition for shallow vegetable gardening. 
'The mix itself is 1/3 peat moss, 1/3 coarse vermiculite, and 1/3 blended organic compost,' says Laura. 'This mix provides the nutrients plants need to thrive, while retaining the optimal amount of water and friability. Acknowledging that peat moss and coarse vermiculite are not always available, we have alternative instructions on our Mel's Mix Resource page.' 
As a soilless medium, the mix doesn't actually contain any typical garden soil which helps reduce the risk of soil-borne diseases and weeds, plus the lightweight composition prevents the likes of soil compaction making it perfect for your raised bed. 
3. Add your grid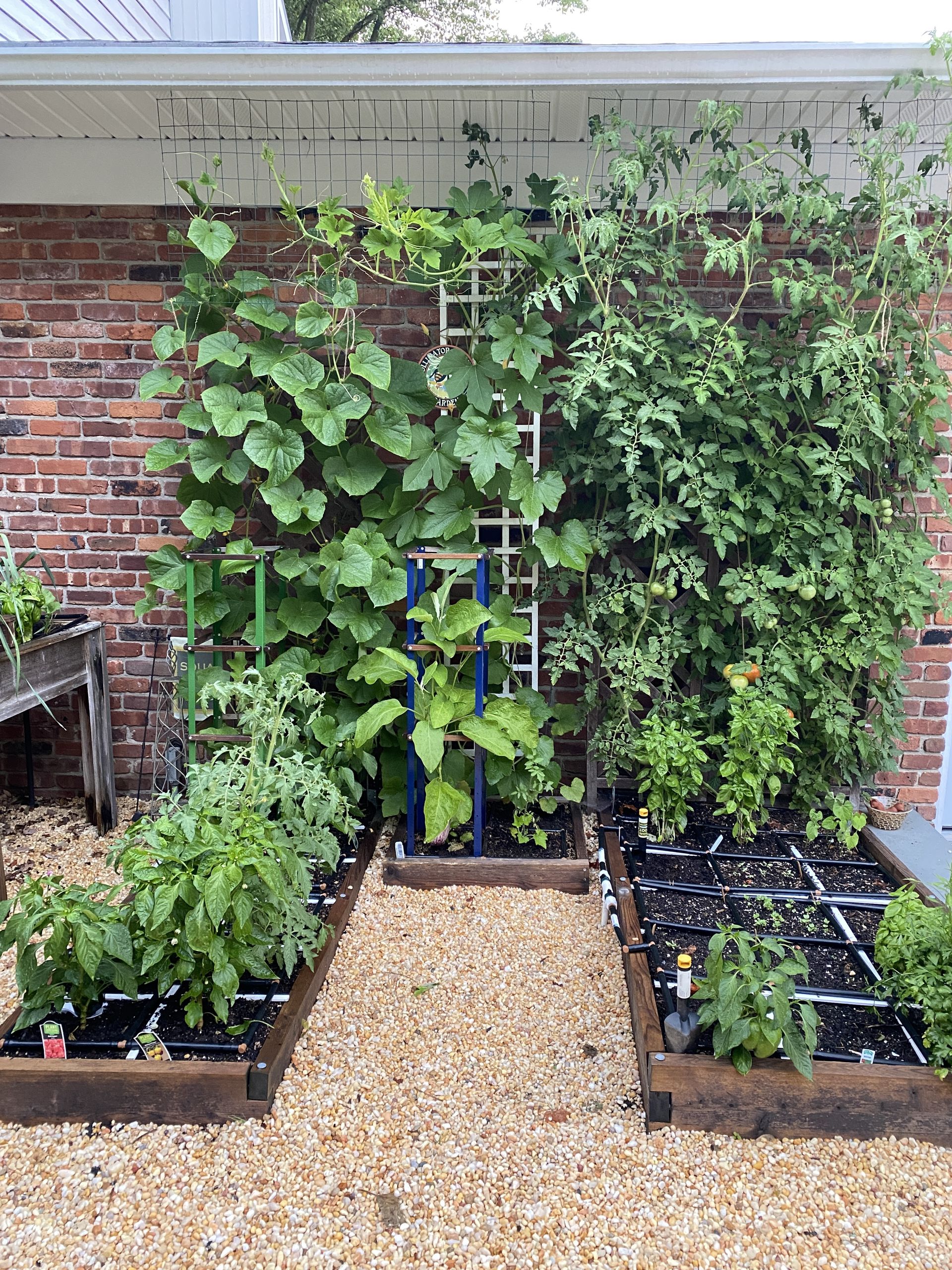 As Steve notes: 'Your raised bed isn't a Square Foot Garden if there aren't any grids – think of a parking lot without lines.' Once you've added your soil you'll need to start dividing up your plot. 
'Use dividers, like wooden laths, to segment the bed into one-foot squares,' says Tony. You could also make the grids with other materials such as bamboo, yardsticks, or even repurposed Venetian blinds. 'We suggest avoiding string because it breaks down with the weather and does not last very long,' adds Steve. 
4. Sow your plants
Last but not least, you need to introduce your plants. 'The beauty of Square Foot Gardening is its versatility,' says Tony. 'For beginners, staples like lettuce, radishes, beans, and herbs are great. Larger plants like tomatoes or zucchini might require more than one square.' 
The team at Square Foot Gardening Foundation has also made planting charts as a guide to how many vegetables can be grown in a square alongside information about what time of year to grow specific vegetables. 'For example, you can grow four lettuce plants in one square, 16 radish plants to a square, and one tomato plant per square,' explains Laura. 'Once you plan your garden, you will understand why this is the most efficient gardening method for any location from rural to urban, using minimal space.'
Remember to plant seasonally (it's not too late for vegetables to be planted in August) and take note of other planting tricks like crop rotation and companion planting to promote growth, prevent soil depletion, and reduce the risk of diseases and pests. 
'Remember that while Square Foot Gardening is a structured approach, gardening is also a creative endeavor,' says Steve. 'Square Foot Gardening can take a bit of trial and error, especially as you figure out what works best in your specific climate and soil conditions. Keep learning from your experiences and adjust your approach accordingly.'